Yallah, habibi, habibti, khalas, na'am, and la have stayed with me among many other things after my internship in Dubai, United Arab Emirates. Four years ago, I was walking around Dubai and absorbing as much as I could from this unique cosmopolitan place. Many people associate Dubai with luxury, skyscrapers, futurism, oil, rich sheikhs, and even call it a hollow shell because of these reasons. However, by living in Dubai for 5 months, I began to see this place from a different perspective. Not only did I shift my perspective on Dubai, but the whole experience itself also changed me as a young woman from within.
For my ambition to do an internship abroad, I will have to take you back in time to the sixteen-year-old me. You see, the sixteen-year-old me, did not like going to high school at all. In my eyes, high school was taking too long, and I was busy making future plans. Since I travelled frequently with my family, I had already seen a lot of the world and I really wanted to explore a new place on my own. So, one thing I knew for sure, was that I was going to do an internship abroad. I just had one "minor" issue: being of Indian descent, a woman, and the youngest in my family. This is not a good combination for overseas aspirations.
Growing up in a Surinamese-Indian family means that there are many unwritten rules that influence the behaviour of both parent and child. Unspoken rules can have a detrimental impact on a person's behaviour, as it leaves space for expectations and tacit assumptions. For example, one of the expectations can be that as a daughter you leave the parental home as a married woman. Living in lodgings because of studies, doing an internship abroad, or living by yourself as a single woman, are still uncommon practices within Surinamese-Indian families in the Netherlands. Although this is changing now because many parents realise that this is normal in Dutch society. Luckily, I have seen more and more women taking one of the above-mentioned steps.
I never had the idea that my parents would be okay with me doing an internship abroad because they never talked about it. Hence, the assumption that I was not allowed to go. Since I really wanted it though, I applied for internships and the moment when a company hired me, I informed my parents. Based on their reaction, I was not quite right, because they did not say "no, you are not going", but they did not say "fantastic!" either. It was followed by a moment of silence and questions like when, for how long, and is it compulsory. I think that there are multiple reasons behind their reaction. It is a combination of maintained cultural traditions that were not applicable to my situation, the idea that women always need protection and me being alone across the world implies that they cannot protect me, and the general realisation that the child has grown up and needs to be let go of. An additional reason in my case was that I am the youngest and therefore also the most adored, spoiled, and protected. Cannot really blame them though.
Even though my overseas internship was met with reluctance by my parents at first. I still managed to pursue my dream and they supported me in my endeavour. Throughout this process, it was important to stay realistic and remind me that yes, they might be scared for my physical safety, but they will survive. Too often have I heard stories of women who sacrificed their own ambitions for the sake of their parents' feelings or because of cultural/societal expectations. This really needs to stop. You only have one life, it's YOURS, and you have the right to live your life the way you want. Your ambitions should never be lowered in price to match other people's feelings or expectations. They are non-negotiable goods! In retrospect, I understand the importance of pursuing my dream, because it was necessary for my personal growth.
The lessons
1. Dubai, there is more to it than meets the eye

During my time in Dubai, I met a lot of people, such as taxi drivers, cleaners, office people, hotel staff, housemates, and my colleagues. To all of them, Dubai represents an opportunity to earn an income, but what is more interesting is that they find Dubai a convenient place to live in because everything is accessible, it is safe and there are many affordable entertainment activities. I have talked to people who are born in Dubai and whose families have been living for generations in Dubai. They were not bothered at all about the fact that they cannot gain Emirati nationality, but rather stressed the opportunities that they have by living in Dubai safely and soundly. To my housemates, who were mostly single women in their thirties from Oman, Tunisia, and India, Dubai meant freedom. They were able to go out, smoke, drink alcohol, have relationships, pretty much do all the things that they are not allowed to do at home. Many women also indicated to have a preference for living in Dubai over their home country, because of restrictions or unsafety. For example, a woman from Oman was not allowed to take a random taxi home every weekend, her brothers or a trusted driver of the family would come to pick her up. About the taxi drivers, I have learned that they make long hours and their wives and children often live in their home country. They only get to visit them once a year. To me, it's the stories of the people who live in Dubai and my own research on Dubai that forced me to look beyond the glamour of Dubai. Visiting a country as a tourist might make you open-minded, but only by living in a country you truly learn about the ins and outs of a place: its culture, traditions, politics, and history. It is a fascinating and enriching experience that expanded my knowledge.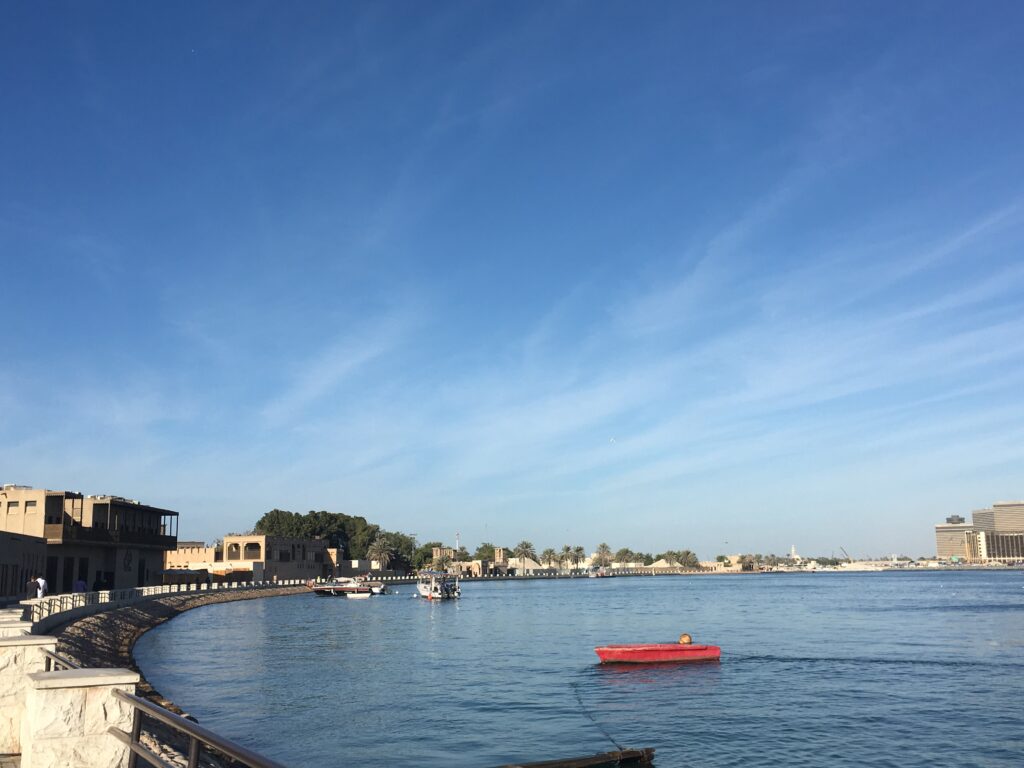 2. By stepping out of your comfort zone, you become more self-aware
My business internship in Dubai was extraordinary, because I did not have a business background, nor did I know anything about tech or telecommunications. In the first weeks, my manager explained several concepts and abbreviations and I started to learn more about the field. On one occasion I had to go to the Dubai World Trade Centre to represent the company at an event. I was nervous and excited because I had never represented a company by myself before. The whole experience of taking a taxi, going to the event, stepping out of the car, walking around for ten minutes, before I found the right entrance, and getting my entrance badge was remarkable. I prepared my pitch, felt confident and I networked with almost everyone at the event. By stepping out of your comfort zone, you will challenge yourself in ways that you would not even think of, you will learn new things, you will learn what you are good at and what you enjoy doing. You get to know yourself better also in areas that are not related to work. This was the first time that I got to experience whether I was able to live far away from my family. I would say that it is much harder to live in another country when your siblings have children, because out of everyone I missed my nieces and nephews the most. It's good that you get to experience this for later in life when you are maybe presented with the choice of moving abroad for work or not. Another thing that made me more self-aware was when I went to the desert for a picnic with my friend. She parked on the emergency lane and I was like "Uhm Noor, are we allowed to park here?" She said "yes", and I was like "aren't you going to get fined? What if the police see us?" She said, "it's fine, everyone does this here." This taught me how mindful I am with following rules in the Netherlands because you do get fined here if you park on the emergency lane. I feel like undergoing what it's like to live in another country, helps me with putting things into perspective.
3. You will boost your self-esteem!
There were many moments when I had to pinch myself to check whether any of this was real. Am I really living in Dubai all by myself? I remember when I was on my way to pick up my childhood friend from the airport as she was going to stay a couple of days with me. I felt so strange because I was welcoming her in another country. Like wow, I am really doing this! Growing up in a protective family and then doing an internship abroad taught me that I am capable of taking care of myself as a woman and not being dependent on anyone else. I managed to find an internship without the help of others. Being able to achieve all of this and also living alone is something that I am proud of because it has not been easy. It took me a lot of effort to get this far. The steps that I took in the process from talking with my parents to sending hundreds of emails, doing job interviews, getting all the paperwork done, packing my bags, saying goodbye, arriving in Dubai, starting my first week, and having to search for an apartment after work, and making new friends, are small wins within the overall milestone. Thus, it really was a boost for my self-esteem, because I proved that I could do this!
---
It's an experience that shapes you as a person and it brings you so much joy! I enjoyed walking around Marina and JBR after work, exploring tourist attractions by myself in the weekends, Bikanervala would be my go-to place to buy Indian sweets especially Rasmalai, I discovered the cheapest and most delicious carrot cake ever, I have expanded my network with amazing people, my housemate taught me how to cook two varieties of biryani, sitting around a bonfire in the desert and watching stars has something magical. These are all things that I never imagined doing and learning. So, if you have the ambition to do an internship abroad… GO FOR IT! I encourage you to take the steps, it will grow you as a person. It will teach you so many things. If you happen to be raised in a protective family or in a culture where taking such steps as a woman is not normalised, don't assume that your parents are not going to be supportive and don't modify your behavior in a way that you aren't chasing your dream. If no one in the family has ever done that before… you will be the first to walk that path!